Hello, bookworms! Today I'm going to gush about a shop I adore. Now, this isn't an ordinary shop. It's unique, great for all ages, and downright adorable. I guarantee you've never seen anything like this one. Today, I'm going to tell you all about HerShelvesElves!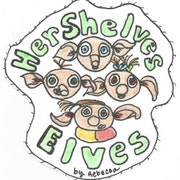 HerShelvesElves creates original hand-crafted elves. Yeah, you heard me. Elves! The owner crochets them, and each elf is unique and special in its own way. Each elf comes out with a different height, weight, and personality. They take hours to create, and all parts of the elves are individually sewn on. Crazy, right? You can tell a lot of love and talent goes into each creation that is made.
Meet my elf, Pete.
The elf I received is a mini, which is the perfect size for me! When the package arrived, it came with my elf, a sock, and a cute adoption certificate. Instantly, I put Pete on my shelf, next to my Harry Potter books. Every time someone comes over and looks at my shelves, I get a compliment on how cute my little elf is.
Here's a photo of Pete on my bookstagram! He looks super cute in photos.
Why do I love HerShelvesElves?
If I'm being honest, I can go on and on about how much I adore this shop. For starters, the owner is so sweet, has the best customer service, and puts so much love and effort into every elf made. Each elf is unique, magical, and super creative. With a variety of styles and sizes to choose from, it's exciting to decide which elf to adopt. Every creation is adorable and beautifully made, you can't go wrong.
Another bonus: they make the perfect gifts for any bookworm, Harry Potter fan (along with many other fandoms), and children. They're machine washable safe, too!
You can even get one to use as a prop if you're a bookstagrammer like me.
I recommend checking out the Instagram and Facebook page, where you can see all of the awesome creations. Here are a few of my favorites:
Two words: cuteness overload. So many fandoms, so many elves.
I hope you all check out the shop, and fall in love with it as much as I have. Between the creations and customer service, you won't be disappointed.
My question to all of you: if you could adopt an elf, what kind would you get? I'm eyeing that Sirius Black elf…
Disclaimer: this is not a sponsored post. I just love to spread the love when it comes to things I adore. I hope you all enjoyed!