Ah, the holidays. The time of the year when all I want to do is curl up somewhere comfy, with a fuzzy blanket, sip on a warm drink, and read a good book. It doesn't get much better than that, am I right?
Earlier this year in January, I purchased My True Love Gave to Me. It's 12 short stories written by 12 different authors, and all of the stories are holiday related. It sounded like the perfect holiday read, so I told myself I couldn't read it until December came along. Once it finally arrived, I started the book, and on Christmas Day, I finished it. Now, it's time to review it!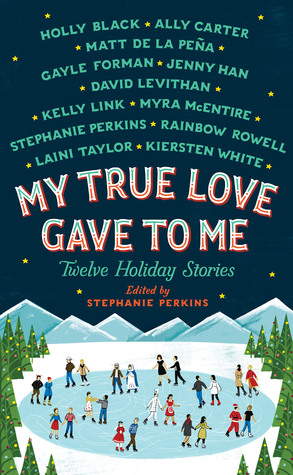 My True Love Gave to Me: Twelve Holiday Stories
STORY RATINGS
Midnights by Rainbow Rowell: 3.5/5 stars
The Lady and the Fox by Kelly Link: 1/5 stars
Angels in the Snow by Matt De La Pena: 5/5 stars
Polaris is Where You'll Find Me by Jenny Han: 4/5 stars
It's a Yuletide Miracle, Charlie Brown: 4/5 stars
Your Temporary Santa by David Levithan: 1/5 stars
Krampuslauf by Holly Black: 1.5/5 strs
What the Hell Have You Done, Sophie Roth? by Gayle Foreman: 3/5 stars
Beer Buckets and Baby Jesus by Myra McEntire: 1/5 stars
Welcome to Christmas, CA by Kierstin White: 4.5/5 stars
Star of Bethlehem by Ally Carter: 4/5 stars
The Girls Who Woke the Dreamer by Laini Taylor: 1/5 stars
WOULD I RECOMMEND THIS BOOK?
Yes. But only if you like holiday themed stories. It's a great way to discover whether or not you'll like an authors writing style, because you get to sample twelve different authors. Plus, some of the stories are cute and cozy for the holidays.
OVERALL THOUGHTS
This book is definitely a hit-or-miss type of thing, which isn't surprising since you have twelve different authors featured with completely different writing styles.
Some stories truly blew me away, especially Angels in the Snow. I would purchase a full-sized novel of that story if I could. For being so short, I was so captivated by the characters. There was a great plot and storyline, which kept me turning the pages. It's the first time I've ever read Matt Le Da Pena's work, and I'm impressed.
A few other stories I enjoyed were written by Jenny Han and Stephanie Perkins, which came as no surprise to me because I love both of them. A few authors I've never read surprised me too, such as Ally Carter and Kierstin White.
Other stories did nothing for me. Not going to lie, I skimmed through about three of them because I found them to be so boring and underwhelming.
Overall, My True Love Gave to Me was mediocre for the most part, but with a few great gems. It was a fun read for me to enjoy between gift-wrapping and netflix binge-watching. I discovered some new authors to check out, and some authors that might not be for me. I think if you read this book, go into it knowing that they're short stories. You won't get super attached to the characters, some stories might be disappointing, but overall it's a great way to get into the holiday spirit.
My True Love Gave to Me rating as a whole: 3/5 stars.
If you've read this book, which was your favorite story? Let me know!