Hello, July! It's a new month, which means it's time to talk about the books I read in June. I'd say June was a good reading month for me. I've been adjusting to my new life with a puppy, which means I get the majority of my reading time in while he's sleeping.
In June, I read 4 books. Two paperbacks, and two eBooks. It's funny because I used to hate reading eBooks. I always have and always will be a fan of reading an actual book, but the best part about having books to read on your phone and/or tablet is that you can read them at anytime, and anywhere. So that's what I did!
Now, let's get into it!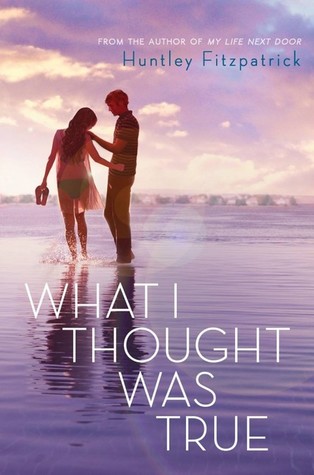 What I Thought Was True – Huntley Fitzpatrick:
Rating: 3/5 stars.
Thoughts: It took me over a month to read this book! Not because it was bad, I just didn't have a lot of time to read so as I read this book, it was very scattered which is probably why I'm only giving it 3 stars. It's my second Huntley Fitzpatrick book and while I love her writing, it wasn't my absolute favorite. Beautiful cover, though!
The Trouble with Flying – Rochelle Morgan:
Rating: 4/5 stars.
Thoughts: This was one of the ebooks I read. I thought it was a fun and quick read. There were plenty of cute and funny moments, and I thoroughly enjoyed it.
A Summer Like No Other – Elodie Nowodazku
Rating: 2/5 stars.
Thoughts: This book was okay. I mainly downloaded it because I liked the cover, and I'm a sucker for a contemporary summer read.
I'll Give You the Sun – Jandy Nelson
Rating: 4/5 stars.
Thoughts: This was my favorite book out of all the ones I read this month! It took me a while to get into the story, but once I hit the halfway point I sped right through. I see why it's such a well-loved book, because the story was interesting and captivating. I really liked it!
That's all I read in June. I have a good feeling about July, since I'm already over 100 pages into a book I'm re-reading. According to my Goodreads goal, I'm 5 books behind schedule which means I'm setting my goal for 6 books in July. Think I can do it? We'll see!