Happy April, everyone! I can't believe we're already 4 months into the year. Has 2017 been going fast for anyone else, or is it just me?
Today I wanted to talk about the books I read in March. Sadly, March wasn't the best reading month for me. I didn't make as much time to read as I normally do, my schedule was quite packed, and I went through a mini book slump (I re-watched one of my favorite shows for the 359496th time. Enough said.)
On the plus side, I read 2 (and a half) books! That's better than nothing, right?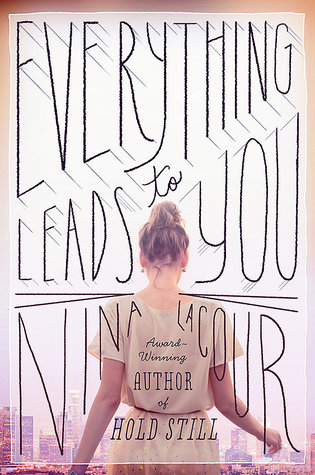 Everything Leads to You by Nina LaCour – 3.5/5 stars.
I bought this book instantly once I saw the cover, after having a huge case of cover lust. How pretty is it? Anyways, I enjoyed this book. Everything Leads to You is the first book I've read with a lesbian/bisexual main character, and I really like how it was portrayed. This wasn't a coming out story, or a story where the main character was struggling with how she felt. She owned and accepted herself, which is great.
The film aspect of this book was interesting, too. Being someone who grew up with a love for acting and theatre, along with working behind the scenes and building sets, I loved it.
Overall, I liked this book and definitely plan on reading more of Nina LaCour's work in the future!
We Were Liars – E.Lockhart – 3.5 stars.
We Were Liars is a book I had been dying to read for what felt like ages. The cover was perfect, the plot seemed interesting, and I thought it would be the perfect spring/summer read. Did I like it? Yes. Was it everything I thought it was going to be? No.
That being said, I still thoroughly enjoyed this book. The writing was beautiful, and that ending is what made the book for me. My biggest complaint is that I didn't get attached to any of the characters, which is an important trait for me when reading a book.
I think I might have enjoyed this book a bit more if I didn't get so involved in the hype, but still a great read nonetheless!
Anyways, that's it for my March wrap-up! I definitely want to challenge myself to read more in April. I'm currently reading My Life Next Door by Becca Fitzpatrick and I'm LOVING it. It's gotten me back into the reading zone, and I can't wait to see what happens!
What was your favorite book you read in March? How many books do you want to read in April?
I'm going to try to read at least four. Let's see how that goes!