Ahhhh, YA contemporaries…a genre I can never seem to get enough of. Especially the ones I'm talking about today! I've re-read them all, so you know they gotta be good. If you love books that deal with young love, friendships, and family, these are for you!
SINCE YOU'VE BEEN GONE – MORGAN MATSON
Every time I read the title, I think about Kelly Clarkson's song.
This book is awesome. It's the perfect coming-of-age story that will get you in the summer mood. It's about a teenager named Emily, who has no idea where her best friend is. She disappeared out of nowhere, leaving nothing but a To Do list full of things that are completely out of Emily's comfort zone. But she wonders, maybe it will bring Sloane back?
This book makes me so happy. The main character, Emily, reminded me of myself in a lot of ways. And don't even get me started on Frank Porter…you'll know what I'm talking about once you read it. This book is about taking risks, and coming into your own, and realizing that great things can happen when you step out of your comfort zone. I'll always recommend this book, because I love it that much.
Bonus: this book features playlists that have a bunch of awesome songs. How cool is that?
TO ALL THE BOYS I'VE LOVED BEFORE – JENNY HAN
Now this is a cute one. The story revolves around Lara Jean, who writes letters to all the boys she's had crushes on, but never shows anyone. Instead, she seals them up and hides them in a hat box for no one to find. Until one day, her letters mysteriously get sent, causing her crushes to confront her.
This was a page-turner for me. I found myself laughing out loud at times. This book deals with young love, and family, and you can't help but get addicted to Jenny Han's writing. I recommend all the books in the trilogy (the final book comes out May 2017)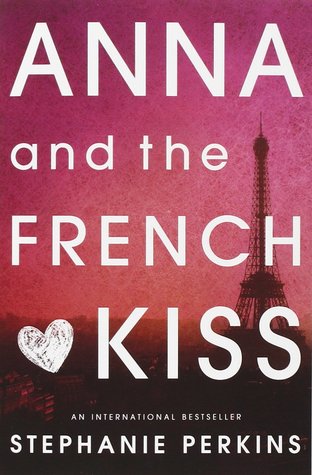 ANNA AND THE FRENCH KISS – STEPHANIE PERKINS
Anna's dad (a cheesy romance writer) is sending her from Atlanta, Georgia to the city of love, Paris, as a high school senior. She's forced to leave her job, best friend, and her new crush who also happens to be her co-worker at the movie theater. Bad timing, right? Anna doesn't speak any french, and she's afraid she'll be all alone. Thankfully, she meets a new set of friends, including the swoon-worthy Etienne St. Clair, who quickly becomes her best friend, but also happens to be taken and completely off-limits.
The story-line is amazing, as are the characters. Anna is so much fun to read, I found her to be comical and amusing. And don't even get me started on Etienne St. Clair! So dreamy, charming and hilarious. After I read this, he was instantly added to my long list of book boyfriends. After reading, you'll want to book a trip to Paris ASAP!
That's all my recommendations for today. I plan on doing a lot more of these! I love discovering new books, and I hope that if you guys pick any of them up that you love them just as much as I do!